---
Wonder Woman Gold Armour Battle Gear Cosplay Costume Dress + Sandal Boot Shoes
Please note that the selection you choose from the drop-down box are based on the following 3 separate listed items: 
1) Complete Costume (without the Sandal Boot Shoes)
- Shoulder Strap

(Note: Coloring can be changed from Red to Gold if requested)
2) Complete Costume (Includes Sandal Boots / Shoes)
- Shoulder Strap 

(Note: Coloring can be changed from Red to Gold if requested)
- Bracer / Armlet for Arms
- Sandal Boots / Shoes 
(Refer to Size Chart for Selection)
3) Sandal Boots / Shoes Only
- Please refer to Size Chart to make your selection and provide us with your measurements at the Checkout.
Material / Texture:
 Faux Leather
Size Chart
XXS, XS, S, M, L, XL, XXL, XXXL please refer to the Size Chart.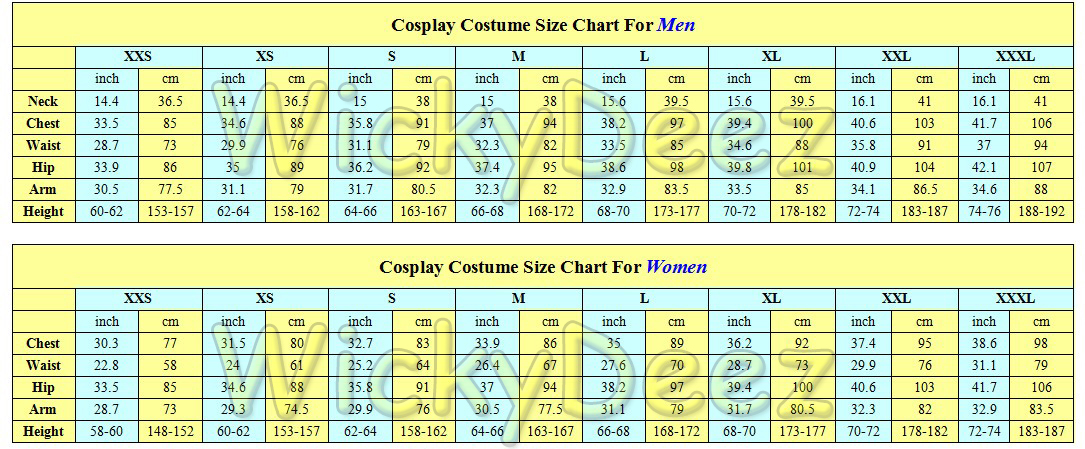 The size chart shown in this listing is not in U.S. standard.
If you choose the customized size option, please provide us with the measurements in-line with the requirements shown below:
4. Height 
(Total height, bare feet)
7. Height from shoulder to waist
8. Height from waist to toe
Please refer to the 'How to Measure' photo which is a guide to how to take your own measurements. 
Further Instructions on how to measure your body (For Men)
Further Instructions on how to measure your body (For Women)
Measuring your Shoe Size for the Wonder Woman Boots
Size Chart (in centimeters):
Please provide the following measurement to us ASAP when you place an order
1.Sex
2.Body height
3.Foot length
4.Calf around
5.Foot width
Please note that if your foot length is longer than 25.5 cm (includes 25.5 cm Male European which is a size 40 or Female European size 40) we will not be able to create a high heel for the shoes and it will be made as a flat-bottomed style
Production Times
Regular sizes: 7-14 business days
Customized sizes: 15-25 business days (Choose Custom Option)
New Requested Costume Designs: 15-30 business days
If you are in urgent need of the costumes, please confirm with us before ordering. We will let you know if we can speed up the production time for you.
Tips
1. As computer screens have a chromatic averration, especially between CRT screens and LCD screens, we can't guarantee that the color of our products will be exactly the same with the photographs you see.
2. If we don't receive any special requirements from you, we will make the costume according to the size you select from the drop-down box (i.e. Size Medium) which will be based on the sizing from our size chart shown in this listing. Therefore please ensure to check the size chart thoroughly before ordering.  
The orders can't be cancelled after 2 working days.
3. It's normal to have an inch or so in measurement errors between the sizes you provide and the sizes of the costume(s) you receive.  These errors can't be accepted for any returns or exchanges.
4. Costumes can be custom made according to your measurements.  We strongly recommend that you have your measurements taken by a professional tailor before purchasing.
Shipping Times
How long does it take for Shipping times?
Standard Shipping can take anywhere between 12-35 working days, depending on the country you reside in.
EMS shipping can taken between 8-15 working days, depending on the country you reside in.
FedEx, TNT or DHL usually takes between 3-10 working days, also depending the country you reside in.
If your address is located in the remote area, we will ship your item via standard shipping method.
No telephone Number and PO.BOX and APO/FPO address can not been shipped by Express shipping service.
If you need faster shipping, please feel free to contact us.
Contact Us
Please feel free to contact us if you have any questions. Your questions will be answered within 24 hours.
Thank you!
We are not the creator of the idea or concept of these, this is an inspired fan made item and not an official product. All rights belong to their respected owners.
They are to be considered parody fan art, and not an officially licensed product.  We do not claim ownership over any brand names, images, graphics, or characters; We are simply a fan of these items and enjoy using our artistic abilities to create unofficial fan art for cosplayers, larpers, collectors, and fellow fanatics. Trademarks belong to their respective owners.
On the fence about this Wonder Woman Gold Armor Battle Gear Cosplay Costume + Sandal Boots w/ Lasso? Don't be. Let our satisfaction guarantee address your concerns.

Inventory Last Updated: Dec 05, 2023
---