---
Thanos Glowing Gemstones Lights Infinity War Gauntlet LED Glove Avengers 3 Edition Cosplay Prop
 
Material:

 Hard Latex 
(Not soft Latex. With this Infinity Gauntlet Glove, your arm and hand / fingers can freely move inside it)
Features:

 The Glove comes with multi-color LED lights as shown in the photos
Package includes:
 1x Thanos LED Infinity Gauntlet Glove (Please note, you'll need two LIR2032 batteries to power on / light up the gemstones. Batteries are not included as they are not allowed to be shipped through postage services)
See Battery Instructions in the photo example below: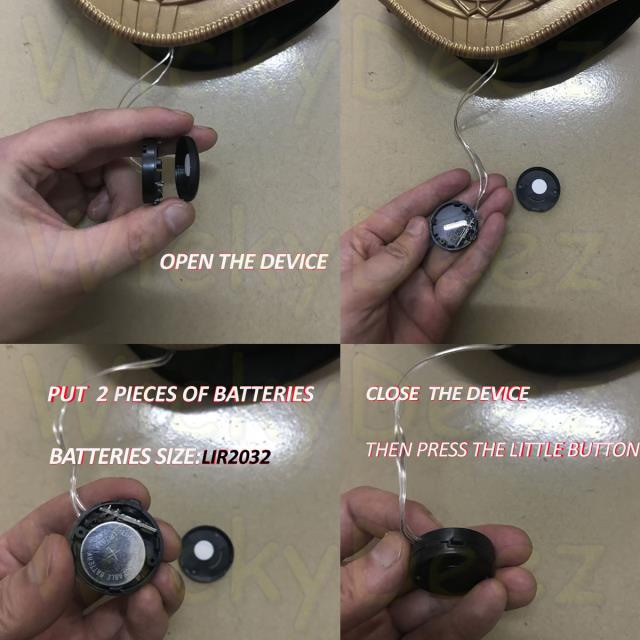 Shipping Times
Monday to Friday (excluding weekends and holidays). 
All items are usually shipped via a Standard Shipping method unless you choose a different shipping method (if available).
For Domestic Shipping, please allow 3-10 business days for your item(s) to arrive. (see further information below in regards to 'Shipping From' locations)
In regards to International Standard Shipping methods, items are expected to arrive within 10-20 business days to major country destinations. Other countries with strict Custom regulations may take up to 30-45 business days or more.
If you require Expedited Shipping and don't see an option available at the checkout, please send us a message requesting a price quote and we will check this with the courier company for you. 
Please note that the shipping times mentioned in this listing are an estimation only. Unexpected delays may occur due to shipping carrier issues, natural disasters, Custom regulations and so on. As these issues all fall outside our control, we will still endeavour to help and answer any questions you may have.
In regards to tracking information, in most cases a tracking number or link is usually applied / updated on your order when the courier has shipped out your item.  You may also receive a notification via email with your tracking number and link.
If you do not receive a tracking number, please email us so we can look into this for you as system glitches can sometimes occur.  Please also note that there might be other circumstances where a tracking number can't be provided to you.  The reason to this is usually dependant on the country you reside in, the shipping service used and warehouse that we ship your item from.  
As we have our own workshops located in different parts of the world, we always endeavour 
to ship from a location that is going to be close to your area / country and choose the best available  shipping courier that uses a quicker delivery method.  
We are also partnered with some of the best companies to bring a wider range of quality products to you.
Therefore, the item(s) listed for purchase on this page is usually shipped from our main workshop located in China. However, we may ship from one of our other workshops that is a closer location to you, only if stock is available.  This is to reduce shipping times.
Contact Us
Please feel free to contact us if you have any questions. Your questions will be answered within 24 hours.
Copyright: 
We are not the creator of the idea or concept of these, this is an inspired fan made item and not an official product. All rights belong to their respected owners. They are to be considered parody fan art, and not an officially licensed product.  We do not claim ownership over any brand names, images, graphics, or characters; We are simply a fan of these items and enjoy using our artistic abilities to create unofficial fan art for cosplayers, larpers, collectors, and fellow fanatics. Trademarks belong to their respective owners.
The Thanos Glowing Gemstones Lights Infinity War Gauntlet Glove Avengers Cosplay Prop was built with people like you in mind. Something to keep you happy. Every. Single. Day.

Inventory Last Updated: Dec 02, 2023
---